PREPRUFE® 100S
A unique, prefabricated, pre-applied waterproofing membrane that bonds integrally to poured concrete
Product Description
PREPRUFE® 100S pre-applied waterproofing membrane is a multi-layer composite waterproofing material with superior performance, including a layer of high-density PE (HDPE) film, self-adhesive polymer layer and a unique particulate layer.
PREPRUFE® 100S pre-applied waterproofing membrane can be applied on a smooth level concrete surface, qualified compacted sand-stone cushion, or used as the waterproof layer of vertical surfaces of temporary and adjacent structures. After pouring concrete directly on to the paved PREPRUFE® 100S pre-applied waterproofing membrane, the poured concrete will bond fully and permanently with PREPRUFE® 100S pre-applied waterproofing membrane.
PREPRUFE® 100S pre-applied waterproofing membrane is supplied at a width of 1.0m and 1.2m. Pour concrete after the steel bars are tied up. Please contact your local GCP representative for application details.
Main Applications
PREPRUFE® 100S  is intended for use as an economical waterproofing solution for low risk basements and other less critical structures below ground. For critical projects (i.e. occupied space and sensitive environments), GCP recommends the use of PREPRUFE® Plus with dual adhesive ZipLap™ technology. See separate data sheet.
Product Advantages
Forms permanent bond to concrete poured against it, preventing water from seeping into the gap between waterproofing membrane and the structure.
Not affected by the displacement of the basal layer/ ground settlement beneath slabs.
Membrane can be trafficked immediately after application.
Cold applied - No flame or hot works permits. No specialist equipment
Chemical resistance - protects structure from salt or sulphate and is effective in most types of soils and waters. 
Water and moisture proof -Provides protection for Basement Grades 1, 2 and 3 as per BS 8102:2009 and IS 16471:2017.
Simple and quick to install, requiring no priming or fillets. 
Allows for foot traffic immediately after application, ready for immediate placing of reinforcing steel
Unaffected by wet conditions.
Fully-adhered watertight laps and detailing.
Can be applied to permanent formwork - Maximizes use of confined sites
Excellent bonding after UV exposure and under long-term water immersion within recommended duration.
Installation
Substrate Preparation
All Surfaces
It is essential to create a sound and solid substrate to eliminate movement during the concrete pour. Substrates must be regular and smooth with no gaps or voids greater than 12mm.
HYDRODUCT® drainage composites can provide the membrane with a good surface and facilitate underground structural drainage.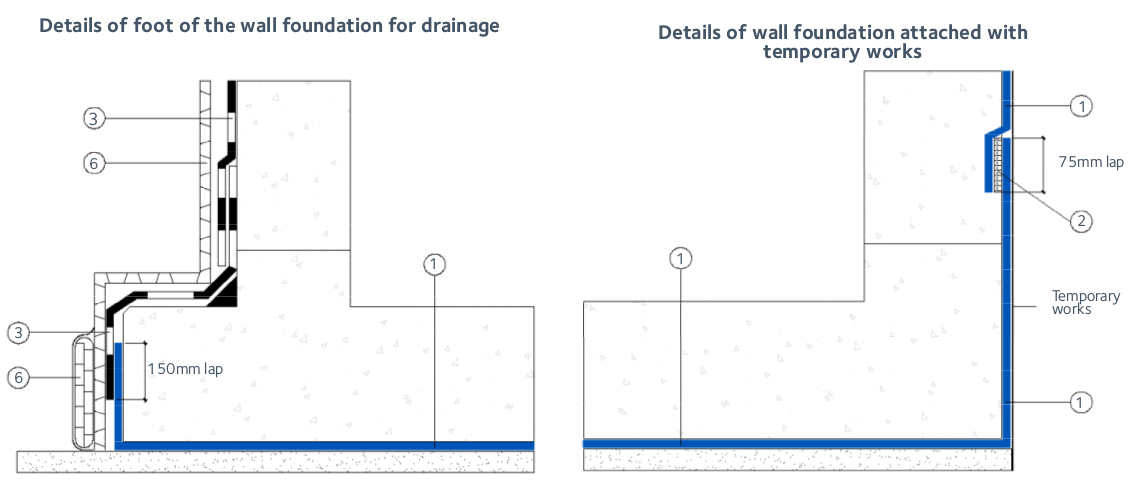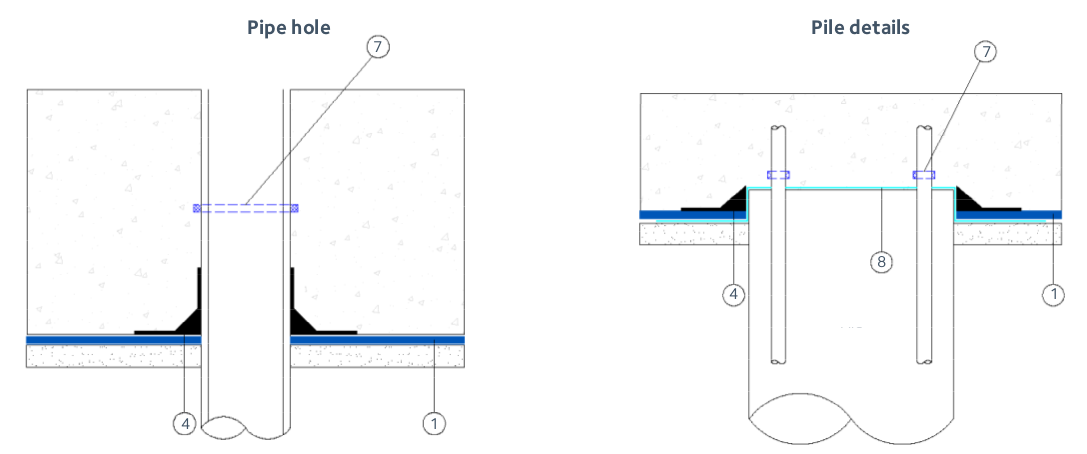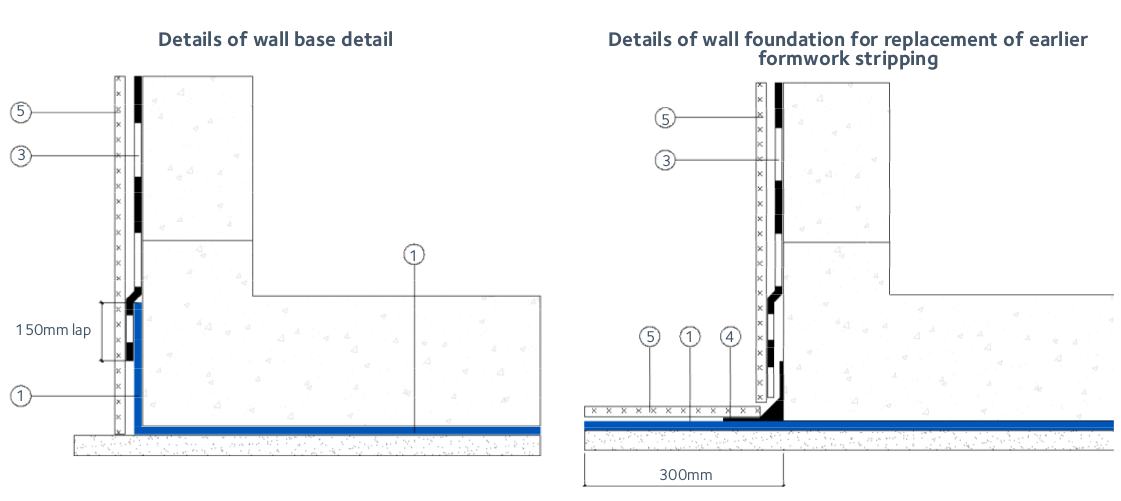 PREPRUFE® 100S  Pre-Applied Waterproofing Membrane
PV 100 Tape OR MS Fixer OR Preprufe DLM
BITUTHENE® 3000HC Self-Adhesive Waterproofing Membrane
BITUTHENE® Liquid Membrane
SERVIPAK® Flex 03 Protection Board
HYDRODUCT® Drainage Sheet
BENTORUB® Salt swellable waterstop
Physical Properties
| | | |
| --- | --- | --- |
| Property | Typical Value | Test Method |
| Colour | White |   |
| Thickness | 1.2mm | ASTM D 3767 |
| Tensile Strength, Film | 25Mpa | ASTM D 412 Modified |
| Elongation | 400% | ASTM D 412 Modified |
| Low Temperature Flexibility | -25°C, Pass | ASTM D 1970 |
| Lateral Water Migration Resistance and Resistance to Hydrostatic Head | >70M | ASTM D 5385 Modified |
| Crack Cycling | Pass | ASTM C 836 / ASTM C 1305 Modified |
| Peel Adhesion to Concrete | 800N / m | ASTM D 903 Modified |
| Lap peel adhesion | 800N / m | ASTM D 18765 |
| Puncture Resistance | 800N | ASTM E 154 |
1. ASTM D412 modified: testing speed is 50mm/min.
2. ASTM D5385 modified: Hydrostatic head tests of PREPRUFE Membranes are performed by casting concrete against the membrane with a lap. Before the concrete cures, a 3 mm spacer is inserted perpendicular to the membrane to create a gap. The cured block (cured min. 7 days) is placed in a chamber where water is introduced to the membrane surface up to the head indicated;
3. ASTM C836/C1305: Test conducted at -23°C;
4. ASTM D903: Concrete is cast against the particulate surface of the Membrane and allowed to properly cure (7 days minimum). Peel adhesion of Membrane to concrete is measured at a rate of 100 mm per minute.
5. The test is conducted 15 minutes after the lap is formed and run at a rate of 2 in. (50 mm) per minute at 72°F (22°C).
Typical test values represent average values from samples tested.
Horizontal Blinding
The substrate must be free of loose aggregate, voids and sharp protrusions. Avoid curved or rounded substrates. The surface does not need to be dry, but standing water must be removed.
Vertical Sheet Piling
Use concrete, plywood, insulation or other approved facing to sheet piling to provide support for the membrane. Board systems such as timber lagging must be close butted to provide support and not more than 12mm out of alignment.
Membrane Installation
When placing PREPRUFE® 100S pre-applied waterproofing membrane, overlap the bonding edge. Use a steel roller to press the bonding edge firmly to ensure complete bonding and to achieve continuity. PREPRUFE® 100S pre-applied waterproofing membrane can be applied at -4ºC and above. When installing PREPRUFE® 100S waterproofing membrane in cold or marginal weather, the bonding edge may be heated appropriately with hot air gun or similar devices to remove moisture in order to enhance bonding.
PREPRUFE® 100S Waterproofing Membrane
Place the membrane PE film side to the substrate with particulate layer side up, facing the concrete pour. End laps should be staggered to avoid buildup of layers. Accurately position succeeding sheets to overlap the previous sheet 75mm along the marked selvedge. Ensure the underside of the succeeding sheet is clean, dry and free from contamination before attempting to overlap. Ensure a continuous bond is achieved without creases and roll firmly with   a heavy roller. Any initial tack will quickly disappear.
Roll Ends and Cut Edges
Overlap all roll ends, corners and cut edges by a minimum 75mm and ensure the area is clean and free from contamination, wiping with a damp cloth if necessary.
Remove  loose particulates from the surface of the PREPRUFE® 100S pre-applied waterproofing membrane lower part of lap by brush and scraper, use a hot air gun to remove particulates and adhesive from the overlap area of 80mm when using PV 100 Tape.  
Apply PV 100 Tape from GCP Applied Technologies by peeling off release  liner and fix  one adhesive side onto the lower part of lap where particulates and adhesive have been removed. Roll firmly to ensure complete adhesion without creases or voids. Peel off the other layer of release liner  and apply  the upper part of PREPRUFE® 100S membrane lap onto the PV 100 adhesive tape. Roll firmly to ensure complete adhesion.
Alternatively, remove all floating particulates from the surface of PREPRUFE® 100S by brush. Apply MS Fixer OR Preprufe DLM from GCP Applied Technologies along a 75mm strip on first membrane granular surface roll end. Use a metal spatula to spread MS Fixer covering 75mm x 1m surface homogeneously. Overlap the other (end/cut edge) roll directly on MS Fixer prepared surface and roll firmly to ensure complete adhesion without creases or voids.
Contact your local GCP Technical Services representative to use suitable method in your region. Refer to separate detailed method statement.
Pouring of Concrete
The concrete must be poured within 30 days of application of the membrane. During pouring, take care when vibrating concrete to avoid damaging the waterproofing materials.
Formwork Removal
PREPRUFE® 100S pre-applied waterproofing membrane can be applied to removable formwork, such as slab perimeters, elevator and lift pits, etc. Once the concrete is poured the formwork must remain in place until the concrete has gained 20 N/mm2 compressive strength to develop the surface bond. PREPRUFE® 100S pre- applied waterproofing membrane is not recommended for conventional twin-sided wall forming systems.
As a guide, to reach the minimum compressive strength stated above, a structural concrete mix with an ultimate strength of 40 N/ mm2 will typically require a cure time of approximately six days at an average ambient temperature of -4ºC, or two days at 21ºC. Please contact your local GCP representative for more details.
Limitations of Use
Approved uses only include those uses specifically detailed in this product data sheet and other current product data sheets that can be found at gcpat.com
PREPRUFE® 100S membrane is not intended for any other use. Contact GCP Technical Services where any other use is anticipated or intended.
PREPRUFE® 100S membrane is designed for in-service temperatures below 120°F (49°C)
PREPRUFE® 100S membrane should not be used with conventional two-sided formwork. (See PREPRUFE® Technical Letter #TL-0013 "Forming Systems for use with PREPRUFE® Membranes")
Note that because of local regulations, test standards and customs, product literature and offerings may be different in various locations. If you have any questions or comments, please contact your local customer service office.
Supply
 
PREPRUFE® 
100S
PV 100
Tape
MS Fixer
Thickness
1.2mm
 
 
Roll Size
1.0m x 25m
1.2m x 20m
80mm X 20m
400cc/ sausage
Packaging
1 roll
16 rolls/ box
20 sausage/ box
Roll Weight
40kg
1kg
600g/ sausage
Edge/End
Laps
75mm
75mm
75 mm
Application with BITUTHENE® Membrane and Joints
If PREPRUFE® 100S  pre-applied waterproofing membrane is applied together with BITUTHENE® membranes, or for areas such as construction joints, allow for another 150mm-wide overlap so as to protect PREPRUFE® 100S pre- applied waterproofing membrane from being contaminated. This 150mm-wide membrane can offer overlap with the follow-up waterproofing membrane that is installed.
Safety and Handling
Users must read and understand the product label and safety data sheet (SDS) for each system component. All users should acquaint themselves with this information prior to working with the products and follow the precautionary statements. SDSs can be obtained by contacting your local GCP representative or office.
Storage
Observe one-year shelf life and use on a first in, first out basis
Store in dry conditions between 40°F (4.5°C) -90°F (32°C)
Store off ground under tarps or otherwise protected from rain and ground moisture
Temperature Requirements
PREPRUFE® 100S membrane can be applied at temperatures of 25°F (-4°C) or above. 
PREPRUFE® 100S membrane is designed for in-service temperatures below 120°F (49°C).
Technical Services
For assistance with working drawings for projects and additional technical advice, please contact GCP Applied Technologies.
gcpat.ae | United Arab Emirates customer service: +971 4 5139560
We hope the information here will be helpful. It is based on data and knowledge considered to be true and accurate, and is offered for consideration, investigation and verification by the user, but we do not warrant the results to be obtained. Please read all statements, recommendations, and suggestions in conjunction with our conditions of sale, which apply to all goods supplied by us. No statement, recommendation, or suggestion is intended for any use that would infringe any patent, copyright, or other third party right.
PREPRUFE, BITUTHENE, HYDRODUCT and BETEC are trademarks, which may be registered in the United States and/or other countries, of GCP Applied Technologies, Inc. This trademark list has been compiled using available published information as of the publication date and may not accurately reflect current trademark ownership or status.
© Copyright 2016 GCP Applied Technologies, Inc. All rights reserved.
GCP Applied Technologies Inc., 62 Whittemore Avenue, Cambridge, MA 02140, USA
Emirates Chemicals LLC,, P. O. Box 5006, Office 2104, 21 Floor, The Exchange Tower, Opp. JW Marriott Marquis Hotel, Business Bay, Dubai – United Arab Emirates
This document is only current as of the last updated date stated below and is valid only for use in the UAE. It is important that you always refer to the currently available information at the URL below to provide the most current product information at the time of use. Additional literature such as Contractor Manuals, Technical Bulletins, Detail Drawings and detailing recommendations and other relevant documents are also available on www.gcpat.ae. Information found on other websites must not be relied upon, as they may not be up-to-date or applicable to the conditions in your location and we do not accept any responsibility for their content. If there are any conflicts or if you need more information, please contact GCP Customer Service.
Last Updated: 2021-05-24
https://gcpat.ae/en-gb/solutions/products/preprufe-pre-applied-waterproofing-solutions/preprufe-100s