INTEGRITANK® waterproofing system
Ensuring the integrity of critical infrastructure
The INTEGRITANK® system is a highly durable waterproofing membrane that offers long-lasting protection. Its fully bonded nature means that water does not track behind the membrane, creating a straightforward solution to leak prevention.
Documents
INTEGRITANK® Product Documents
Products & Accessories
Products
Product Name
Description
Key Benefits
Applications Type
INTEGRITANK®
Description
INTEGRITANK® is a high performance, structural waterproofing membrane for the protection of steel and concrete structures based on GCP's (previously Stirling Lloyd) unique ESSELAC® advanced resin technology and extensive experience in the development of coatings for specialist waterproofing.
Key Benefits
Unaffected by high humidity
Rapid cure even at low temperatures
Able to carry load or traffic after one hour
Resistant to ballast and backfill materials
Long and effective life
Application Type
Tunnels
Balconies
Podium Decks
Basement tanking
Roofs - including Green and Bio-Diverse roofs
Concrete, masonry, asphalt or steel substrates requiring a chemical and/or abrasion resistant coating
Storage tanks and silos.
Secondary containment - bund lining or earthen containment bunds (using a fabric carrier for the coating)
Silage units
Canals and culverts
Sewage and sludge tanks
Low-level radiation tanking and roofing applications.
PA1 Primer
Description
PA1 Primer is a single-component, air drying primer for concrete and cement screeds, enabling application in temperatures as high as 50°C. PA1 Primer is based on GCP Applied Technologies' advanced resin technology and extensive experience in the development of high performance primers.
Application Type
PA1 Primer is used to seal the surface of concrete screeds and to improve the adhesion of GCP's wide range of membranes, screeds and coatings.
Overview
Gain continuous waterproofing protection
Structures such as decks and balconies are continually exposed to the elements, making them susceptible to corrosion and water ingress. Therefore, it is crucial that a protective coating is applied in order to maintain their integrity. Developed by Stirling Lloyd (now GCP Applied Technologies), the INTEGRITANK® waterproofing system offers high bond strength in addition to crack bridging that helps these structures stands the test of time. 
Accelerate return-to-service
Unlike sheet-applied waterproofing, which can be time-consuming to apply, the INTEGRITANK® liquid membrane can follow any contour or irregular surface, making simple work of complex detailing. The system's fast application, one-hour cure time and on-the-spot quality assurance mean less time is needed for waterproofing application.
Additional Product Advantages:
Flexibility to apply by hand or spray
Can be applied virtually year-round in a wide range of temperatures
Eliminates the need for complex equipment and hot works permits
UV and chemical resistant 
No protection boards or root barrier required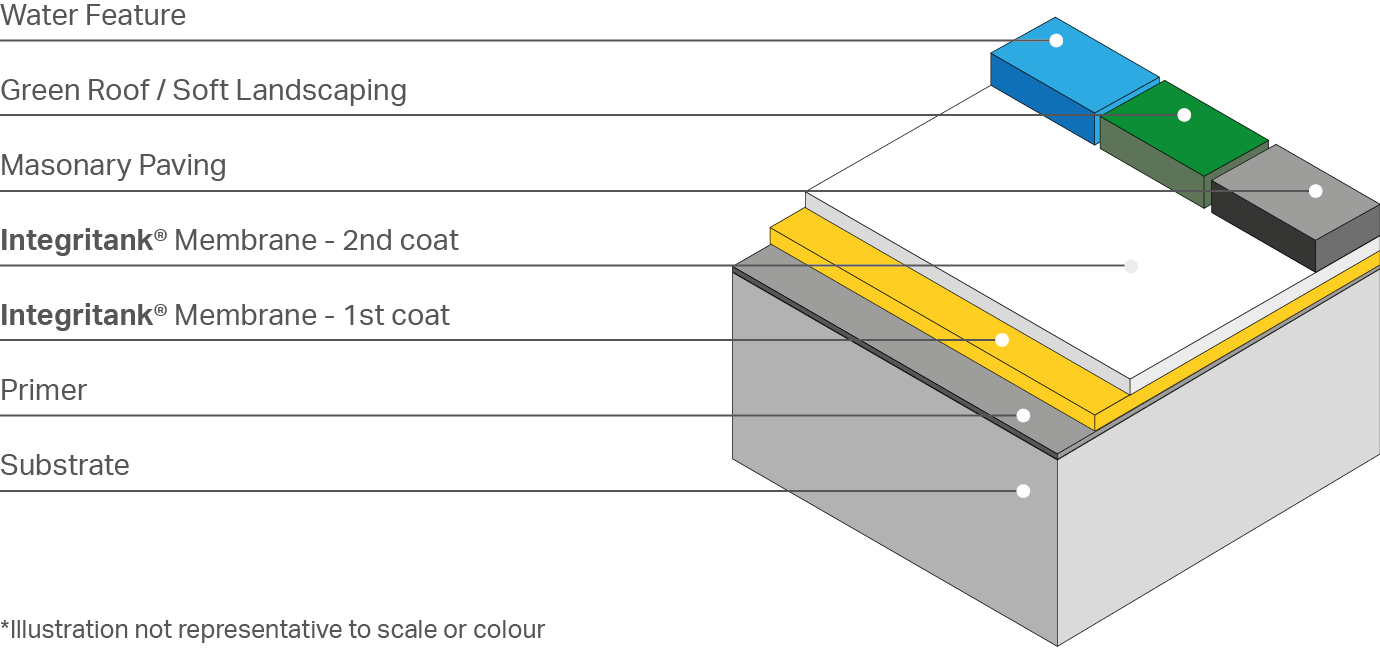 Applications
Green roofs
Basement roofs
Terraces and balconies
Podium decks
Immersed tube tunnels
Cut and cover tunnels 
Bored tunnels and shafts