BITUTHENE® Primer B3
Bituminous primer for use with the BITUTHENE® range of cold applied, self adhesive waterproof membranes.
Product Description
Bitumen based solvent primer for application to substrates prior to the application of BITUTHENE® self–adhesive waterproof membranes.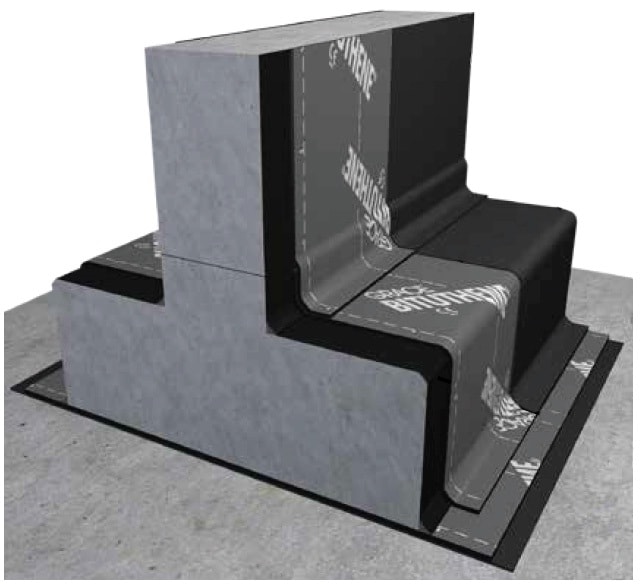 Product Advantages
High solids content - higher coverage per litre
Easy application by brush or roller
All temperatures above +5 °C
Applications
Concrete, masonry, steel substrates
Application Instructions
Surface Preparation:
Concrete substrates should be dry and free from surface contaminants such as: curing compounds, dust etc. Remove any friable material and laitance by mechanical means.
Application:
Apply by brush or roller at a coverage rate that gives a uniform dry film coating. BITUTHENE® waterproof membranes can be applied to the primed substrate as soon as the primer is 'touch dry'. Do not apply BITUTHENE® waterproof membranes to primed substrates whilst the primer is still wet. On highly porous substrates two coats may be necessary. Ensure no spillages onto other waterproofing products. There is no need to prime substrates prior to the application of BITUTHENE® LM detailing compound.
Cleaning:
Tools and equipment can be cleaned with a solvent tool cleaner.
Supply
| | |
| --- | --- |
| BITUTHENE® Primer B3 | 20 litre pail/drum |
| Coverage | approx. 8 m2/litre* |
* depending on substrate surface and porosity.
Technical Data
| PROPERTY | TYPICAL VALUE |
| --- | --- |
| Drying time | 12 hours (depending on temperature and substrate conditions) |
| Solids content | 55% |
Health and Safety
Before using this product, read the product labels and comply with all health and safety advice. Further health and safety information is available from the products SDS (Safety Data Sheet) available from GCP.
Storage
Store unopened in original packaging in cool, dry conditions out of direct sunlight and remote from direct heat sources.
gcpat.ae | United Arab Emirates customer service: +971 4 5139560
We hope the information here will be helpful. It is based on data and knowledge considered to be true and accurate, and is offered for consideration, investigation and verification by the user, but we do not warrant the results to be obtained. Please read all statements, recommendations, and suggestions in conjunction with our conditions of sale, which apply to all goods supplied by us. No statement, recommendation, or suggestion is intended for any use that would infringe any patent, copyright, or other third party right.
BITUTHENE is a trademark, which may be registered in the United States and/or other countries, of GCP Applied Technologies Inc. This trademark list has been compiled using available published information as of the publication date and may not accurately reflect current trademark ownership or status.
© Copyright 2018 GCP Applied Technologies Inc. All rights reserved.

GCP Applied Technologies Inc., 2325 Lakeview Parkway, Alpharetta, GA 30009, USA
P. O. Box 5006, Office 2104, 21 Floor, The Exchange Tower, Opp. JW Marriott Marquis Hotel, Business Bay, Dubai – United Arab Emirates
This document is only current as of the last updated date stated below and is valid only for use in the UAE. It is important that you always refer to the currently available information at the URL below to provide the most current product information at the time of use. Additional literature such as Contractor Manuals, Technical Bulletins, Detail Drawings and detailing recommendations and other relevant documents are also available on www.gcpat.ae. Information found on other websites must not be relied upon, as they may not be up-to-date or applicable to the conditions in your location and we do not accept any responsibility for their content. If there are any conflicts or if you need more information, please contact GCP Customer Service.
Last Updated: 2022-11-18
https://gcpat.ae/en-gb/solutions/products/bituthene-post-applied-waterproofing/bituthene-primer-b3