INTEGRITANK® and PREPRUFE® Plus waterproofing system offers world class fully bonded combined waterproofing solution on the project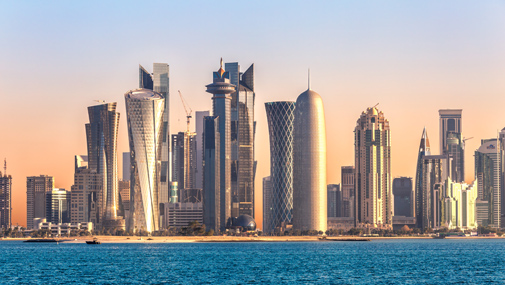 Project
Doha Metro Red Line South
GCP Solutions
PREPRUFE® 300R Plus pre applied waterproofing membrane, INTEGRITANK® liquid waterproofing membrane, PREPRUFE® CJ tape, SERVISEAL® 240 waterstop system
Project
A new major metro system is under construction in Qatar's capital city, Doha. Once completed, the Doha Metro will consist of four rail lines and 101 stations with a total length of more than 240km. The new metro will become a vital transport link, particularly during the planned 2022 FIFA World Cup Games.
The Red Line runs for 40 kilometres from Al Wakra in the south to Lusail in the north. The line also connects Hamad International Airport at Terminal 1 to the centre of the city. With a total of 18 stations including West Bay, Katara and Qatar University, the Red Line offers a convenient and reliable alternative to driving in the capital, cutting journey times from the airport to Lusail from an hour and a half drive to just 36 minutes on the metro.
Waterproofing protection is a vital aspect of the project. INTEGRITANK® and PREPRUFE® 300R Plus combined waterproofing system from GCP Applied Technologies, offered a world class solution for the Red Line South section of the project.
The works to be carried out were the waterproofing of five underground stations and five switchboxes on the Doha Metro Red Line South. This project required a fast track, durable waterproofing system that would withstand a predicted 120 years design life. Demonstrating a proven track record in local conditions and enduring environmental challenges, namely high water pressure with excavations averaging 25m and high levels of chloride, sulphates and hydrocarbon from the soil, were essential.
Tunnel designers have developed criteria for water tightness known as 'permissible (allowable) leakage', dependent on the level of risk and lifespan of the tunnel. The concept of 'permissible leakage' is difficult to understand and design to, and in the view of the Doha Metro project, an unacceptable risk. The expectation of 'complete dryness' called for a waterproofing system with a long-standing successful track record in difficult and harsh conditions. In addition, the tight construction schedule necessitated a system with a rapid application speed and cure time.
With these requirements in mind, and having proved their compatibility and effectiveness on previous projects, the INTEGRITANK® liquid membrane and PREPRUFE® 300R Plus pre applied sheet membrane were selected to provide the waterproofing system of choice.
PREPRUFE® 300R Plus composite HDPE adhesively sealed sheet membrane and INTEGRITANK® cold, spray applied liquid membrane combined to provide world class waterproofing. With a proven track record on similar underground structures, the system demonstrated it met three key requirements: durable enough to last the design life of the structure, fast and simple application to expedite the construction programme, and the necessary protection from groundwater, sulphates, chloride and hydrocarbons.
PREPRUFE® 300R Plus waterproofing sheets were applied before concreting below the horizontal raft slab to form a permanent, continuous and fully bonded barrier to resist water migration between the concrete slab and membrane. PREPRUFE® CJ tape and Serviseal® 240 waterstop system were used to protect joints. The INTEGRITANK® liquid waterproofing membrane was cold spray applied to form a seamless, fully bonded barrier to protect the basement walls and roof slab. The INTEGRITANK® membrane's unlimited over-coating window provided essential flexibility to the contractor to work in phases.
gcpat.ae | United Arab Emirates customer service: +971 4 5139560

GCP Applied Technologies Inc., 2325 Lakeview Parkway, Alpharetta, GA 30009, USA
P. O. Box 5006, Office 2104, 21 Floor, The Exchange Tower, Opp. JW Marriott Marquis Hotel, Business Bay, Dubai – United Arab Emirates
This document is only current as of the last updated date stated below and is valid only for use in the UAE. It is important that you always refer to the currently available information at the URL below to provide the most current product information at the time of use. Additional literature such as Contractor Manuals, Technical Bulletins, Detail Drawings and detailing recommendations and other relevant documents are also available on www.gcpat.ae. Information found on other websites must not be relied upon, as they may not be up-to-date or applicable to the conditions in your location and we do not accept any responsibility for their content. If there are any conflicts or if you need more information, please contact GCP Customer Service.
Last Updated: 2022-02-02
https://gcpat.ae/en-gb/inspiration/project-profiles/world-class-combined-waterproofing-solution-for-doha-metro-red-line-south