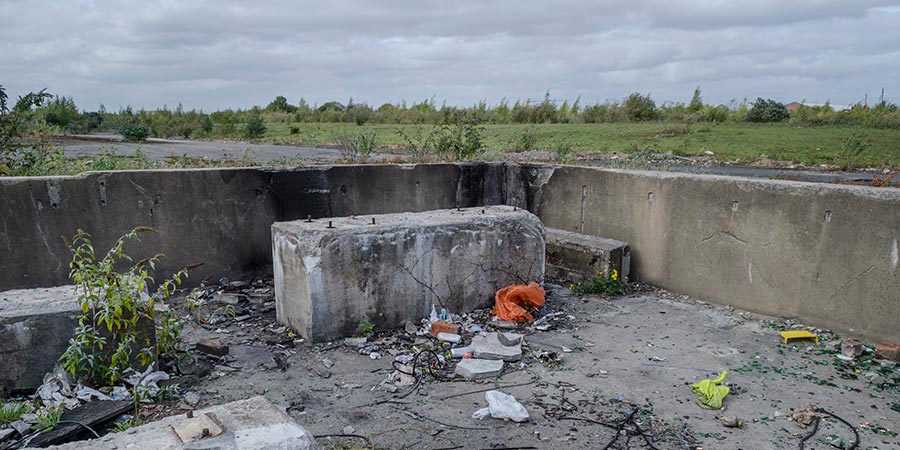 With urban space at a premium, developers are finding it difficult to locate unspoiled sites to build on. Centuries of industrial development have left countless lots contaminated. Often these are abandoned industrial sites such as steel mills or refineries, which are referred to in some regions as brownfields.
Obviously there are cases where developing on these sites is not a wise choice, due to the level of health and safety hazards and/or the high cost of the cleanup. However, many sites are viable for building, if properly remediated.
Redevelopment challenges
If you're embarking on a redevelopment project, it's critical to have a plan in place for remediation. This will involve ordering an in-depth assessment of the soil and the nature of its contaminants, and getting expert advice on the most effective remediation techniques available. Your expert should be well versed in how to comply with the latest regulations. For example, the British Standards Institution (BSI), an independent standards body recognized in 193 countries, has developed standards for protective measures.
It's common for multiple remediation approaches to be used inside and outside of the structure. Your geotechnical engineer can provide recommendations that are specific to the particular site.
The need for pre-applied membranes
Often part of the remediation process involves treating the first few layers of soil or removing several layers of soil from the site. However, this will most likely leave traces of volatile organic compounds behind. This means it is also essential to prevent harmful gases in the soil from seeping into the structure.
Some pre-applied waterproofing membranes such as the PREPRUFE® Plus waterproofing system can be used as a second level of protection to prevent both water infiltration and gas infiltration. This prevents contaminants in the ground from corroding the structure or migrating inside and degrading the air quality.
How pre-applied membranes work
Unlike post-applied waterproofing where the waterproofing membrane is installed on top of hardened concrete, pre-applied waterproofing is installed in the formwork before the reinforcement and concrete are placed. The membrane is placed directly against the soil retaining systems or diaphragm walls. The concrete is then poured directly onto the membrane. 
Not all pre-applied membranes are the same
Additional considerations:
Be sure the waterproofing membrane can protect against hazardous gases. Some waterproofing membranes will break down over time when exposed to certain contaminants. Others may not have the tight, integral bond to keep vapors out.
Provide continuous layer of waterproofing adhesive. Ensuring strong overlaps between the membrane sheets will help keep water and gases from migrating into the structure.
Use an inert material. Pre-applied membranes are made of a range of materials such as linear low density polyethylene (LLDPE), PVC (polyvinyl chloride), EPDM (ethylene propylene diene polymer), and CSPE (chlorosulphonated polyethylene). Some of these have higher levels of degradation due to the difference in their polymer structures. For example, LLPDE, PVC, and EPDM are at particular risk of oxidation, while CSPE suffers from dehydrochlorination. HDPE has enhanced oxidation, hydrolysis and stress resistance and has been widely used as geomembrane.
Look into the long-term effects of chemical exposure. Ask the membrane manufacturer where their products have been installed so you can ensure that the products have stood the test of time under similar site conditions as yours. Also, look into the track record of the membrane manufacturer in local and global conditions.
Check into independent tests. The manufacturer should be able to connect you with an independent laboratory that can certify their claims are valid. Confirm that the lab has tested all aspects of the product. For example, the over laps are generally the most vulnerable places where gas and water can get in, but they are often overlooked. 
Tags
Preprufe Plus
Waterproofing